The map shows a chapel from the inside. The sun rays penetrating a beautiful stained glass window illuminate a young man who lies on a pedestal.
This is a knight. He holds his hands as if he is going to pray, so it seems that he is just sleeping. Beside him on the wall are hung three swords pointed down.
The fourth sword is located next to the pedestal on which the knight rests. The stained glass depicts Jesus Christ, before whom his disciple is kneeling.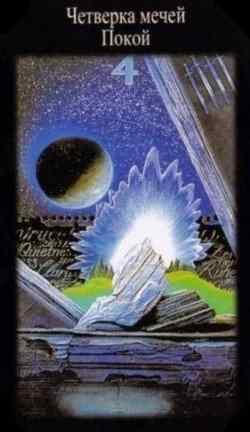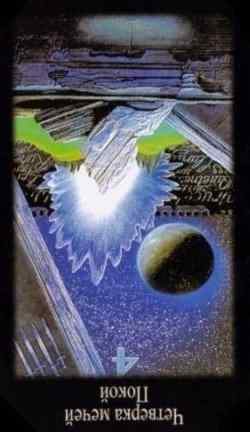 In the direct position of the Four of Swords indicates that a person needs to stop a little and rest in order to recuperate. Such a map may portend both planned vacation and forced rest due to lack of work.
Arkan points out that a peaceful peaceful period has come and it is imperative to take advantage of this.
If there are road maps next to this map, then this combination indicates that a quiet and pleasant journey is coming soon. This card also indicates that the most favorable period for meditation and loneliness has arrived.
It is alone, a person can fully relax, recover and reflect on his position in society.
When the Eight of Wands falls next to each other, this indicates that the delay to rest will not be long and soon the person will have to be active.
In various spheres of life this lasso can indicate the following:
In the field of health, the card emphasizes that all organs of the human body require a recovery period. The person is just tired and this can lead to a failure of the vital systems of the body. If any disease has arisen, the map predicts a positive outcome in its treatment.
In matters of relationship, the card foreshadows loneliness. This does not mean a break with a partner at all; rather, by mutual agreement, people will decide to rest for a while from each other.
In the business sphere, the lasso foreshadows the appearance of serious difficulties, sometimes insurmountable. In work, a forced downtime can arise and there is a lack of prospects for successful career advancement. In conjunction with the Tower, this arcane predicts that the current actions of a person may have negative consequences in the future.
The card can personify any person who is very tired and needs good rest. In addition, it may indicate that there are philosophically minded people in the human environment.
The value of the Quartet Swords card in an inverted position
In the inverted position, the Four of Swords indicates that a period of active action is coming. The time that could be used for recreation is coming to an end and you need to act very decisively to get closer to your goals.
During this period, one should not expect an absolute positive, because after a rest a person will need to gradually merge into life. But if this card falls in the alignment with the Wheel of Fortune, then we can assume that events will start to develop very rapidly and the guessing person will need to react to them correctly.
In conjunction with the Empress, this card portends serious financial difficulties caused by improperly chosen activities.
In various areas of human activity, the Four of Swords may indicate the following:
In matters of health, we should expect the development of any problems. They may be associated with the occurrence of diseases that are provoked by depression. It is very bad if death cards fell out next to this card. For a sick person, this can mean progression of the disease.
In the area of ​​personal relations, there is a serious conversation with a partner that is unlikely to be postponed. In addition, this lasso warns that a person can commit an act that discredits him in the eyes of a partner. If fortune telling is performed on a woman, then such a card, dropped out next to the Knight of Wands, predicts that her partner will soon throw it away.
In the business field, the card focuses on the need to begin to act. But at the same time the situation in the working team is very unfavorable. Employees can sabotage work, so you need patience and tact to resolve the situation without quarrels and conflicts.
Very often, this card represents a person who was left without work. In addition, she points out that people who have no personal opinion can surround a fortuneteller.