The map shows a man in a red mantle, who stands in front of the table, on which lie a sword, a goblet, a rod, and a pentacle. These items are a symbol of skill, skill, dexterity and agility. Above his head is a symbol of infinity, which is a conductor between heaven and earth and underlines the importance of knowledge and wisdom, and, consequently, the need for constant knowledge of the world.
The man's left hand is trimmed, and in his right hand he holds a candle. This image symbolizes self-confidence and self-reliance.
This is a leader card. The internal attitude of the card can be described as follows: «I will definitely achieve what I want.»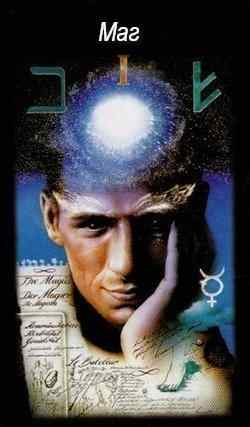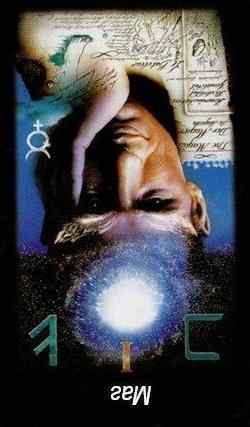 Map Magician indicates that each person has his own natural talents, which he must use. A person must understand that he can allow himself during this life period to do what he wants.
This image is a sign of the balance between the inner content and the external attitude.
The card emphasizes the fact that a person understands what he aspires to, since he is a professional. And even if at the dictates of fate in life comes a difficult period, he can be sure that he is able to cope with any difficulties.
This card reflects ingenuity in business. She emphasizes such traits as self-confidence and cunning.
A person has a complex character, but he is able to build useful connections and fully concentrate on achieving the goal.
The magician, in most cases, is a harbinger of good luck in business.
In other areas, the map can be interpreted as follows:
In the area of ​​health, she points out that there will be no problems, and for a sick person she is a harbinger of complete recovery. If divination is carried out on a pregnant woman, the Magician foreshadows the birth of a son;
In the personal life in the near future, all relationships will move to a new level. Moreover, the card may portend both happy changes and loneliness. This card falls into the hands of people who have a special appeal and attract love to them;
In the business sphere, the Magician focuses on the fact that in order to achieve success, you need to be active, using your own knowledge and skills.
In a scenario, for a woman, a card may indicate a close relative of a man, for example, it could be a husband or a son. The magician advises to take the initiative in their hands and show their experience and abilities to the full.
If this card fell out in a straight position, then you need to realize the fact that you are a free person and are able to make the right decision on your own.
Map Magician in an inverted position, first of all, indicates that self-doubt and indecision in decision-making can lead to the collapse of aspirations and hopes. Failure to use their knowledge and natural talents can lead to problems. Both own ambitions and vanity, which will provoke a reassessment of their capabilities, can drive into a dead end.
A person can set himself impracticable goals, and when he realizes their unrealizability, he can fall into a deep depression.
Also, a card in an inverted position may indicate the insincerity of a loved one. They can be both a close friend and relative.
Such a person in the environment will become a burden and lead to unnecessary trouble.
In various spheres of human activity, the Magician, in an inverted position, may portend the following:
For health, this card is neutral, but for men it may portend sexual impotence, as a result of stressful situations;
In personal relationships, the card indicates unpromising acquaintances, while real-life relationships are not fueled by deep feelings, so they continue just by inertia;
In the business field, the card indicates a period of failures and blunders. This is the time when a person performs his work by inertia, and when he begins to rush into battle, he makes serious mistakes.
In the scenario, the Magician in an inverted position symbolizes a selfish and ambitious person or a fraudster who seeks to manipulate other people to achieve their own goals. As a partner in love, such a person is not able to give, and seek only to enjoy sex.