The Last Judgment card depicts an angel who blows. It occupies the entire top of the card, which symbolizes that it can not be heard by people. Naked people gathered from below, who gazed in wonder and fear at heaven.
But not only the living hear the angel, the dead rise from the graves, as the hour of terrible judgment has arrived and everyone must answer. The main meaning of this card is that you need to overcome the losses and rebel to a new happy life.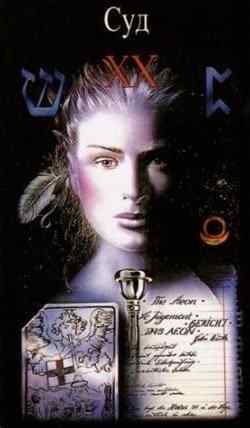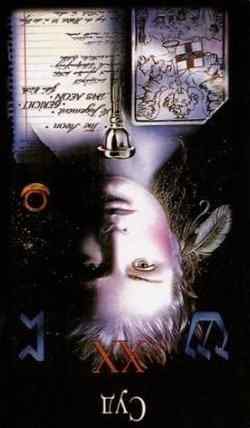 In a direct position, the Last Judgment card symbolizes life changes. It indicates that the next life cycle is ending. Most likely, a person will need to make an important decision that will change a lot in life.
Sometimes, the card calls for a short time to stop, to think about and evaluate their own achievements and to outline new real-world plans.
This map also indicates that stagnation in business is coming to an end, and progress is underway in projects that have been started earlier. If any trial was initiated, the person will definitely win it. Very often, the card foreshadows timely assistance from a loved one.
She draws attention to the fact that the time has come to turn to unfinished projects and cases. For a person who plans to change jobs, in real life the right time has come.
In other areas of human activity, the map may indicate the following:
In matters of health, this card is particularly relevant for sick people, because it foreshadows a full recovery. But at the same time, the path to this favorable event may be different. You may have to go through a serious aggravation and crisis, and sometimes you will need surgery.
In matters of relationship, the card emphasizes the greater likelihood of legal registration of a marriage or divorce. Responsible decisions can also be made in terms of partnership.
In business matters, the map predicts a period when it will be necessary to make a number of responsible decisions. Also often, this lasso foreshadows an important meeting that may have an impact on future life.
The card represents responsible and fair people. Very often she points out that there are people with a law degree in the person's environment.
The meaning of the Last Judgment Card in an inverted position
In the inverted position, the map of the Last Judgment indicates that the person in his heart reigns chaos in connection with the fear of change, which are inevitable. He can not assess the situation around him and make the right decisions.
Such an internal state and hesitancy to commit acts lead to stagnation in affairs. Also, this card, in an inverted position, may fall out in a scenario, when the wrong decision was made, which will soon bring negative results.
The interpretation of the Last Judgment card is greatly influenced by other cards in the scenario. For example, a certain combination of arcana may indicate that the court case will be lost.
In various areas of human activity, the map may indicate the following:
It is necessary to pay attention to their own health, especially for people suffering from chronic diseases. During this period they can give serious aggravations, after which their development will go in a negative direction. There is a big risk of the need for surgery.
In personal life, such a card predicts separation, which can occur for a variety of reasons. But in a certain scenario, the fact of tension in the relationship is simply emphasized. When a card falls to a person whose family relationships are serene and stable, it portends separation due to a long business trip.
There is a period of complete confusion in business matters. The reasons for this may be different, for example, very often — the reorganization of the enterprise. With caution you need to get involved in legal disputes during this period, since all the cases will have a negative result.
This card represents losers. It often indicates that a person is surrounded by weak-willed people who are not able to make independent decisions.