The map on the white horse depicts a skeleton. He is dressed in armor, in his left hand a banner in black with the image of a five-petalled flower.
In the background lies a dead man, and an old man stands in front, stopping his horse with a gesture. Next to the old man is a young woman with a child.
The figures of the people depicted on the map underline the fact that life and death are inseparable. The image looks quite sinister, but you should not be afraid, because this map, symbolizing death, indicates the beginning of a new life.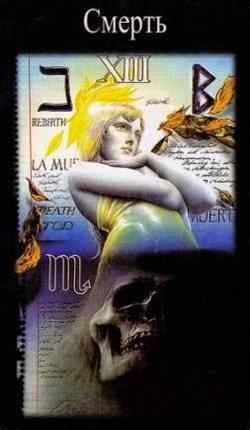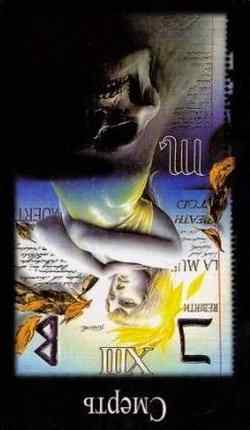 Map Death in a direct position symbolizes the logical conclusion of something. It portends life changes and the possible profound transfiguration of man. Arkan focuses on the fact that the next stage of life is coming to an end.
There is a dying away of the old and it needs to be perceived calmly and judiciously. It should be understood that global changes in life are rarely negative, they are like a breath of fresh air, so you need to take them with joy.
A map in a straight position symbolizes a complete change in a person's worldview. Maybe they will make an absolutely new fateful decision.
Sometimes such a map is associated with obtaining a huge inheritance.
The map can also affect specific areas of human activity as follows:
She points to unstable health. It is possible that a serious illness develops with symptoms that are implicit so far. For a sick person, the death card portends in the near future the duration of the disease or a sharp exacerbation.
In matters of personal relations, the card can be interpreted ambiguously: it can indicate both a break in relations that have exhausted themselves and their renewal after a certain interruption. Heralds the beginning of a new relationship in the layout of the combination of this card with the Empress.
In the business field, the map also shows instability and unnecessary fuss. There is a great chance that you will have to part with the old work. But at the same time, it should be remembered that one should not speed things up by oneself; everything should happen by itself.
The card personifies a person who can easily part with the past. It may also indicate that there are a lot of fussy people around the person.
In an inverted position, the Death card indicates that the person resists change and emphasizes that this should not be done. Life by inertia can not bring happiness.
Such a life approach can provoke a serious depression and drive a person into a corner. In the future, it will be very difficult to find a way out of the impasse.
In other areas, the map may indicate the following:
In the field of health, one can expect nervous breakdowns, depression and, as a result, loss of strength. But on the other hand, for a sick person, such a card in an inverted position can be considered a positive sign. She points out that the crisis has passed and there is a recovery period.
In matters of personal relationships, the card indicates the need to update them. This is a sign that we should not be in a hurry to part, we just need to take a short break from each other and rethink values. But if, after all, the decision on parting was made, it is very important to leave in an amicable way without offense and reproaches.
In work affairs, there is a period of routine affairs and no changes are foreseen. But at the same time, one should not rush to change work, even if it has become a burden. During this period, the search for a new job will not be crowned with success.
The card represents a person who, at a subconscious level, resists any changes. This may indicate both his conservatism and the fact that he is simply afraid to change anything in his life.