The map shows a hand that appeared between the clouds. She holds her sword tightly upwards. It is crowned with a crown with a palm and olive branch.
As you know, these plants are a symbol of victory and peace. In the background are images of mountains.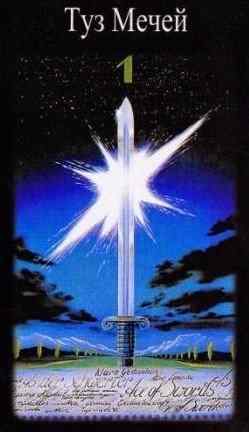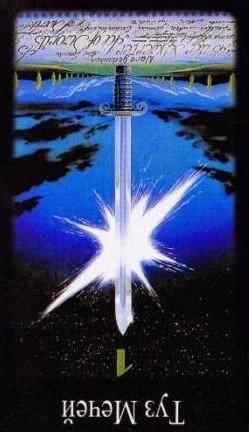 In a straight position, the Ace of Swords symbolizes the strength and confidence of a person. There comes a very favorable life period, when using all his determination and determination, the guessing person can achieve his goals.
But at the same time, this lasso indicates that this will have to overcome many obstacles.
The Ace of Swords greatly enhances events that portend other nearby cards. This lasso can predict very large inevitable changes in life.
Most likely, the old stage comes to the end and it is necessary to learn to live by the new rules.
This card symbolizes the fact that no difficulties at this time can not knock a person out of a rut. He will be ready to deal with the most difficult problem and will be able to make the right decision.
After all, his inner spirit is that he will willingly break with the old and head to a new future.
In various areas of human activity, the Ace of Swords may indicate the following:
In the area of ​​health, perhaps the development of diseases for which urgent medical intervention is required. Most often, this card predicts the passage of a particular course of treatment. But when the lasso drops out with maps that personify loved ones, this indicates that it will be necessary to resort to a surgical method of solving the problem.
In private life, the relationship with a partner may deteriorate, and even any changes are possible. But if there are positive maps next to this lasso, this indicates that a difficult situation can be safely resolved if the partners compromise.
In the business sphere, there may be any obstacles on the way to the goal, but all of them will be successfully overcome. There comes a favorable period of life for any undertakings.
The card represents a strong personality, a person who is not afraid of difficulties. In addition, the Ace of Swords may indicate that there are determined people around a person who can become reliable business partners.
In the inverted position, the Ace of Swords emphasizes the fact that a person is powerless in this situation. This life period will be filled with stress and separation from people.
Such a map indicates that the cause of many troubles in real life is the hot-tempered nature of a person.
The Ace of Swords in an inverted position emphasizes that all plans are crumbling in life. All hopes of victory due to circumstances depending on the person also lose their meaning.
At the event-level everyday, this lasso foreshadows constant quarrels and conflicts. If a Hermit falls next to the Ace of Swords, this indicates that the person cannot figure out himself.
The combination with the Clown warns that the fortuneteller may commit a great folly, which will later be greatly regretted.
In other areas of life this card may indicate the following:
In the field of health, you can expect the most unpredictable situations that can lead to a wide variety of diseases or injuries. Sometimes, health problems can be solved only by surgery. But during this period there is a very high risk of complications.
In personal relationships, the card is a harbinger of heartache. She points out that a person may suffer from unrequited feelings and from emotional overstrain go to extremes.
In the business area, chaos is expected that will be difficult to understand. But it should be remembered that any hasty decision will lead to trouble. Any negotiations in this period will be disrupted.
The card represents a cruel and unjust person. In addition, she points out that there are people around a person who are ready to go to any lengths to achieve their goal.