The union of Aries and Aries is very controversial. By nature, the representatives of this sign have a hot temper, so in order to be close, both partners will need to learn a lot. It should also be noted that Aries are always busy and enthusiastic people.
Therefore, the probability of meeting such people is quite low. In life, they are more likely to rush past each other on parallel courses. But, if Aries accidentally intersect on the path of life, then a spark of attraction will surely arise between them.
Their meeting is likely to be a landmark and will be the beginning of a complex and controversial, but also interesting and emotional relationship.
The compatibility of two Aries is based on the strength of the natural character of people. It is believed that relationships between representatives of this zodiac sign can be safely formed if they were born in different months.
In this case, the rivalry between partners will be minimal, so the heightened natural emotionality will not be the cause of separation.
Compatibility of Aries men and Aries women in love relationships is low in percentage terms. But despite this, it should be noted that people belonging to this zodiac sign are faithful companions who prefer honest and sincere feelings.
Aries man is always ready for strong feelings, and Aries woman is able to adequately respond to him. This allows you to make love relationships bright and emotional.
After the first meeting, Aries easily manage to find a common language and it may seem to them that they are made for each other. In the beginning, a love story between partners is like a fairy tale.
But to destroy it at any time can increased emotionality, which can provoke quarrels and disagreements, practically, because of trivia. This factor explains the low compatibility of Aries and Aries in love.
Saved love in a pair, mainly due to the natural assertiveness of men. Feeling that he truly loved a woman, Aries will never back down from her.
He will absolutely not be interested in, under what zodiac sign his darling was born.
The desire to lead is inherent in both partners and this will eventually become a strong irritant. The love relationship in the union of Aries and Aries often resemble both a lyrical story and a horror film.
If the partners do not show patience and try to understand each other, then periodic bouts of anger and rage will kill love and lead to a final break.
Despite the fact that the compatibility of Aries men and Aries women in bed has a high percentage, partners often have disagreements about sexual relations. But in most cases, the relationship continues because of the strong natural attraction between representatives of this sign.
This is due to the fact that Aries are used to always focus on their own feelings, so they do not care about the needs and desires of others. This character trait can hold partners together for a long time.
High compatibility Aries and Aries in bed show a strong passion. Both partners are ready to show imagination in the sexual sphere or respond to any original proposal.
Sex in a pair of Aries and Aries is always unpredictable, so it is very interesting and very important that it is the woman who is ready to deliver a true pleasure to the partner.
As a rule, against the background of the existing sexual connection, none of Aries thinks about future serious relationships. Partners are so overwhelmed with positive emotions that they simply do not want to change anything at a certain moment in life.
In the bright candy period, the elects are not interested in the opinions of others, therefore, closest relatives and friends can only watch the tumultuous romance from the outside. If they dare to intervene, they will instantly become enemies.
It will take at least a month until the partners see fit to talk about their future.
It is noteworthy that marriages between two Aries are quite common. But at the same time, in most cases, the representatives of this zodiac sign remain together for a short time.
That is why the compatibility of Aries men and Aries women in marriage is low.
After a bright period of dating and attraction in the sexual sphere, Aries very quickly agree to tie the fate of the knot. But from the first days of living together the relationship can hardly be called ideal.
Against the background of domestic troubles and obligations, partners find it increasingly difficult to find a common language with each other, especially since they do not know how to concede or find compromises because of their natural stubborn nature.
Marriage between Aries may persist if one of the partners refuses to lead. Very often a woman is more sensible in this regard. To cope with the differences will help the birth of children, because Aries are very responsible attitude to parental responsibilities.
In addition, after the marriage, partners can not abandon their joint hobbies. For example, it can be a pastime in nature or playing sports.
It should be remembered that any idleness can provoke a quarrel between two active and active in nature Aries.
In the Aries and Aries family there is another dangerous factor that can lead to divorce — jealousy. Representatives of this sign are not able to reasonably cope with this feeling, therefore, when the slightest suspicion of unfaithfulness of a partner arises, they are ready to break off relations.
But even in spite of the fact that compatibility between Aries and Aries in marriage is low, those couples who can overcome the difficult initial period of living together will be able to build a strong family. Their relationship will be filled with trust, respect and love.
The sociability of partners will help to ensure that their closest friends are always true friends, so their life will never be boring.
In the well-established family of two rams, treason is impossible. And when the partners understand this, then family life will be filled with serenity and unnecessary emotions will disappear from it.
Over time, the couple will learn to protect their inner world, but at the same time both the man and the woman will continue to develop and express themselves in society.
It is noteworthy that Aries of the opposite sex often become good friends. It almost always happens when there is no sexual attraction between representatives of the zodiac sign Aries when they meet.
Aries are never bored with each other, they always find interesting topics for conversations. The main ones are business, weapons, sports and any events taking place in the world. It is very important that the advice of a person who has a similar natural character is always useful and allows you to make the right choice if necessary.
But at the same time in friendship, each of Aries strives to become a leader, and this sometimes provokes quarrels. After this, it is not always possible to restore friendly communication.
If it happens that the girl Aries and the boy Aries meet and make friends in childhood, they will carry a strong friendship throughout their lives. This is due to the fact that they will have enough time to get used to.
Due to the fact that they very well know each other during a long intercourse, the love relationship between them will simply be impossible.
Two Aries, who maintain friendships for a long time, will not have enemies, because they are so strong that they can easily repel ill-wishers. On the other hand, it will make friends with them, as with strong and interesting people, every person will dream.
Both representatives of this zodiac sign always value friendships and protect them.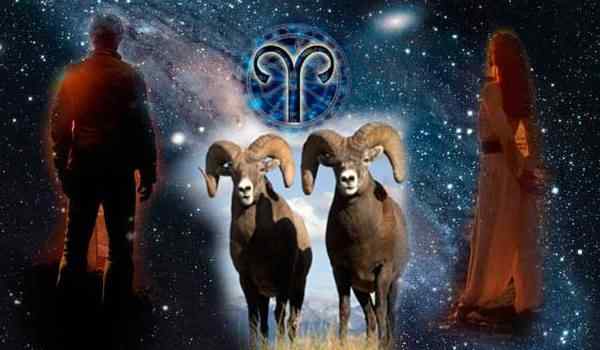 Aries man is a leader in its natural character. He is impulsive and energetic.
Due to the similarity of characters, Aries woman can easily fall in love with her chosen one, but it will be rather difficult to keep him near her. The union of two Aries is very explosive and relationships can end at any moment.
In order for the relationship to have a future, the woman Aries should consider the following:
It is important to give up your natural desire to lead; you should make it clear to your chosen one that you are ready to submit to it.
In no case can one provoke a man to arouse jealousy in him, but on the other hand one should give the chosen one freedom and trust him.
It is necessary to lead an energetic lifestyle and support a loved one in all his endeavors, although it is not at all difficult to do for a woman of Aries.
It is necessary to build sincere trusting relationships, any lie, falsity and cunning will be the cause of separation.
To win a man of Aries woman Aries can only if she has a strong love in her soul. In the other case, all attempts will be futile, and the connection between the partners of this zodiac sign will be just a passing adventure.
Women Aries extremely freedom-loving. They strive for leadership and lead an energetic lifestyle.
Since Aries man has similar character traits, such people in the personal sphere are more likely to repel rather than attract. Sexual attraction often occurs between them, but no more.
But when a man Aries realizes that there is strong love in his soul, he must be creative in order to win the heart of the chosen one. First of all, you need to let the Aries woman feel that next to her is a strong man who will always be a reliable support in life.
Remember that your chosen one can give her heart only to a worthy companion.
From the first minutes of dating, you need to start building sincere relationships on a trusting basis. Women Aries by nature have developed intuition.
Therefore, instantly feel any false. Aries man can win the heart of the chosen one only if he has patience. It is necessary to gradually take the lead, demonstrating how comfortable the beloved will feel behind your back.
The main thing is not to put pressure on her so that she does not feel the threat that could deprive her of her freedom.